Golden Anniversary Member Show
Dates:  March 1-29, 2018
Reception:  Saturday, March 3, 1-3 p.m.
Location:  Louisiana State Archives
Judge:  Monica Bishara LWS
Entry fee:  $20 for 1-3 paintings.  No refunds.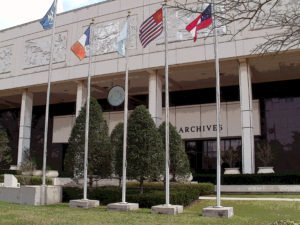 Important Dates:
Exhibit Dates:  March 1-29, 2018
Feb. 24:  Email title/price to LWSart@yahoo.com
Wed., March 1:   9-10:30 a.m.  Drop off your paintings. (Please be prompt.)
Sat., March 3:  Reception 1-3 p.m.
Thurs., March 29:   9-10:30 a.m.  Pick up paintings. Paintings cannot be removed before the end of the show.
Location:  Louisiana State Archives
3851 Essen Lane, Baton Rouge, Louisiana 70809
               Fill out and bring/send with your paintings.
Exhibit Rules:
No jpegs needed for entry.  Titles and price s are needed by Feb. 24 so that title cards can be printed for you.  Email your info to LWSart@yahoo.com.
Paintings must be new to our member show and never shown before at the Archives or in the LWS Juried Member Show.
2018 dues must be paid to participate in member shows.
Original watercolors on paper, neutral mats, plexiglass and wired frames (maximum size 52″).
Since the Archives is a State building, all art must be suitable for viewing by people of all ages (no nudes).
Workshop paintings, including copies repainted after the workshop, are not allowed.
Entering this show means that you agree to all the guidelines established by LWS.
Please click to review the Exhibit Rules
Questions? Email LWS
About  the Judge:  Monica Bishara LWS is a past president and signature member of the Louisiana Watercolor Society. Her award winning paintings, which hang in many private and corporate collections, create a magical world of color and shadow patterns. To see more of her art, click to visit her Instagram and  web site pages.