Location:  Louisiana State Archives
Exhibit Dates: March 1-31, 2023
Take in date: Wed., March 1.  Drop off paintings at the Archives.  9-10:30 a.m.  LWS is unable to accept shipped paintings for this show.
***Thank you for sending your titles by Feb. 25 so that we can make gallery labels for your paintings.
Entry fee:  $20 for 1-3 paintings.  No refunds.
Judge: Claudia LeJeune LWS will select the awards after the show is installed. Claudia LeJeune, a Past President and current Treasurer of the Louisiana Watercolor Society, states  "I am drawn to subjects that beg to be painted because of drama created by light, color, contrast, or that tell a story. Anything is "fair game". I believe that if I am passionate about my subject it will be evident in my work."
AWARDS:  1st Place $150, 2nd Place $100, 3rd Place $75, 2 Honorable Mentions $40 each & 2 Merit Awards $20 each.  Awards will be presented at the Sun., March 19 Members' meeting to be held at the Bluebonnet Library at 3 pm.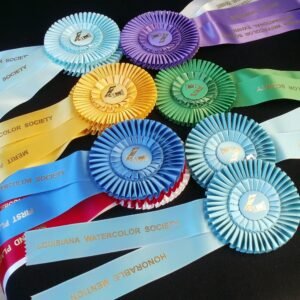 Artists:  Pick up your paintings on Fri., March 31, 9-10:30 a.m.
Spring Gala: Written in the Stars
The 2nd Annual Spring Gala is sponsored by the Friends of the Louisiana State Archives.  Date: Sat., March 4, 2023 from 6-9pm.   Attire is Semi-Formal.  The Louisiana Watercolor Society's Spring Show will be on exhibit during the gala, which will have live entertainment, specialty crafted cocktails from Sugarfield Spirits, Louisiana style hors d'oeuvres and more.  Ticket information 
Paintings cannot be removed before the end of the show.
PROSPECTUS
If you are able to submit a jpg of your painting, LWS will be able to use it on Facebook and Instagram to publicize the show.  However, this is optional. *** Thank you for sending your titles by Feb. 25 so that we can make the gallery labels for your paintings.
The rules have been updated to allow artists to enter the same paintings in both the Archives and Oak Knoll Shows since they are in different cities.   To clarify, please note that a work may be entered in both the Archives and Oak Knoll Member Shows (provided it did not win an award).  A work can always be entered in the International Exhibit whether or not it has won an award and as long as it is less than 3 years old.
ELIGIBILITY REQUIREMENTS
The Louisiana Watercolor Society accepts original, water-based paintings on paper.
Original:
Paintings must have been completed in the three years prior to the submission deadline (no older than March 2020).
Paintings must be the sole work of the artist; they cannot be completed in workshops or classes or under supervision.
No copies of another artist's work are allowed.
Only original paintings are allowed: No photographs, prints, or giclées.
If photo references are used, the photo must have been taken by the artist.
No work other than the accepted work may be submitted.
Water-based:
Watercolor is the preferred medium.
Acrylic, casein, gouache, water-based ink and tempera are allowed.
Paper:
All paintings must be on unvarnished natural paper or synthetic papers such as Yupo.
No other surfaces are accepted.
FRAMING
All works must be framed under clear plexiglass or other framing-grade acrylic.
Wire and screw-eye (or D-ring) must be attached for hanging.
Mats, if used, must be white or off-white.
Diptychs and triptychs must be in single frame.
Minimum image size is 8" X 10".
Maximum frame size is 45" in any direction.
Maximum framed weight is 15 pounds.
—REQUIRED—
Fill out and bring/send with your paintings.