The LWS 53rd Annual International Exhibition May 1-19, 2023 will be a live exhibit in New Orleans.  
Reception: Saturday, May 13, 2023, 2-4 pm
Juror: Carrie Waller AWS, NWS, LWS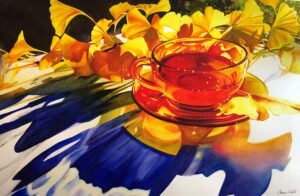 Visit www.carriewallerfineart.com to see her paintings.  Click to read about her career:  Bio
Carrie Waller Workshop in New Orleans May 9-11, 2023.
PROSPECTUS
ELIGIBILITY REQUIREMENTS
The Louisiana Watercolor Society accepts original, water-based paintings on paper.
Original:
Paintings must have been completed in the three years prior to the submission deadline (no older than Jan. 2020).
Paintings must be the sole work of the artist; they cannot be completed in workshops or classes or under supervision.
No copies of another artist's work are allowed.
Only original paintings are allowed: No photographs, prints, or giclées.
If photo references are used, the photo must have been taken by the artist.
No work previously shown in any LWS International Exhibition may be submitted.
No work other than the accepted work may be submitted.
Water-based:
Watercolor is the preferred medium.
Acrylic, casein, gouache, water-based ink and tempera are allowed.
Paper:
All paintings must be on unvarnished natural paper or synthetic papers such as Yupo.
No other surfaces are accepted.
FRAMING
All works must be framed under clear plexiglass or other framing-grade acrylic.
Wire and screw-eye (or D-ring) must be attached for hanging.
Mats, if used, must be white or off-white.
Diptychs and triptychs must be in single frame.
Minimum image size is 8" X 10".
Maximum frame size is 45" in any direction.
Maximum framed weight is 15 pounds.
ENTRY:
Entries will be submitted digitally in JPG format. File size cannot exceed 4 MB and must show only the image – no frame or mat. Entries may be disqualified if incorrectly formatted.
Artists may submit up to 3 paintings.
Entry Fees:
  Members

1 entry             $25

2 entries           $40

3 entries           $40
     
        Non-Members
 1 entry          $40
2 entries         $50
3 entries         $55
 Non-members may pay member entry fees now by joining LWS for the annual membership rate of $35 domestic or $40 International.
How to Name Your Entry
Jpeg file name should be as follows: Last Name, First Name, Title of Painting, Painting Size, (h x w inches without frame)
Example:  Smith, Mary, Masterpiece, 22×30 inches
Digital Entries File Format: Only jpeg files accepted, using high quality camera setting.
Digital image must represent the painting exactly, showing no frame or mat and without extraneous background. Image must be correctly oriented (vertical or horizontal).
ACCEPTED ENTRIES:
A list of accepted artists will be posted on the LWS website by March 1.
Hand-delivered framed paintings ready for hanging must be brought to Place St. Charles between 9 and 10 AM on April 29. The administrative fee for hand-delivered paintings is $20.
Take down show: Pick up hand-delivered paintings at Place St. Charles between 9 and 10 AM on May 20.
Shipped framed paintings must arrive by April 21. The artist must pay shipping costs to and from the exhibit. LWS will provide storage, handling, and services of a professional packing company for return shipping. Exhibitors will be charged a $65 administrative fee to cover the direct cost of this service.
Frame rental service is available to artists from outside the continental US and Canada. The fee of $200 USD includes frame rental from a professional frame shop, delivery to/from the exhibit, handling fee, and return shipping in your mailing tube. Unframed paintings must arrive no later than April 12.
Detailed instructions for each of the above delivery options be sent to accepted artists.
LIABILITY
Although the utmost care will be taken in handling works of art, LWS and/or LWS's representatives and the venue (Place St. Charles) will not be responsible for damage or loss, whatever the cause. Accepted artists release LWS, LWS's representatives, and the venue from all liability with respect to loss or damage to the artist's works of art.
It is suggested that artists carry their own insurance, in proper limits. Submitting a work of art to this exhibition shall constitute an agreement on the part of the artist to comply fully with the conditions and terms set forth in this Prospectus as well as in the Acceptance Form.
LWS assumes the reproduction rights of paintings in the exhibit for display on louisianawatercolorsociety.org, in the catalog, and for promotional purposes only. Each exhibiting artist will receive one complimentary catalog. Additional catalogs will be available for $10 each. To order additional copies of the catalog, email LWSart@yahoo.com
Awards and Sales
The First Prize is $2500, Second Prize is $1000. Additional cash and merchandise awards.
A 30% commission will be retained on all sales to support the exhibition costs. Please price paintings accordingly.
Signature Membership 
Signature status is granted to members after acceptance in three International Shows, provided annual dues have been paid continuously since the first acceptance.
The Masters signature LWS-M may be applied for after acceptance in ten International Shows provided annual dues have been paid continuously since the first acceptance.
Check the web site for application form and further details.
You may view and download a Print Friendly version of the PROSPECTUS for your records.
Calendar
Entries due: ………………………………Jan. 29, 2023
Notices emailed for accepted paintings….March 1, 2023
Check website for accepted artists…….…March 1, 2023
Unframed shipped work due ….……….. April 12, 2023
Framed shipped work due ….………….. April 21, 2023
Hand delivered framed work due……..… April 29, 2023
Exhibit opens………………………………May 1, 2023
Awards & Reception………………………May 13, 2023
Last day of exhibit…………………………May 19, 2023
Pick-up hand delivered paintings………… May 20, 2023
             53rd International Exhibition 2023
Email questions to Show Chair, Peggy Kirby at peggyckirby@gmail.com
or call/text cell: 504-905-5907