Location:  Oak Knoll Country Club,45246 Country Club Drive in Hammond, off Hwy. 190
PROSPECTUS
Exhibit Dates:  June 16 – July 20th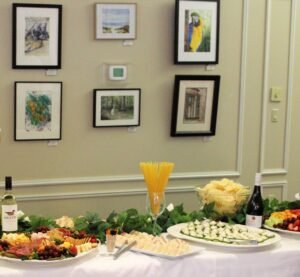 Awards Reception:  Sunday, July 9, 2-4 p.m.
Take in Date: Friday, June 16, 9:00-10:30 a.m.  Hand deliveries only.  LWS is unable to accept shipped paintings for this show.
Entry Fee:  $20 for 1-3 paintings.  No refunds.
Commission:  Oak Knoll Country Club will take a 20% commission on sales.  Please price paintings accordingly.
Artists:  Pick up your paintings on Friday, July 21st 9-10:30 a.m.
Judge: Chryl Corizzo LWS 
Many of Chryl's paintings are composed and painted while boating along the scenic Tchefuncte River, in Lake Ponchartrain, the Rigoles, and along the Mississippi Gulf Coast in addition to her travels in the Unites States and abroad. She currently teaches beginner and advanced classes at Abbey Art Works in Covington, Louisiana.  To learn more, read her Bio.
AWARDS: 1st Place $150, 2nd Place $100, 3rd Place $75, 2 Honorable Mentions $40 each & 2 Merit Awards $20 each.
Show Chair:  Margaret Hawkins

Questions: Email [email protected]
Paintings cannot be removed before the end of the show.
PROSPECTUS
If you are able to submit a jpg of your painting, LWS will be able to use it on social media to publicize the show.  However, this is optional. *** Thank you for sending your titles by June 10 so that we can make the gallery labels for your paintings.
The rules have been updated to allow artists to enter the same paintings in both the Archives and Oak Knoll Shows since they are in different cities.   To clarify, please note that a work may be entered in both the Archives and Oak Knoll Member Shows (provided it did not win an award).
Titles and prices are needed by June 10 so that title cards can be printed for you.
2023 dues must be paid to participate in member shows.
ELIGIBILITY REQUIREMENTS
The Louisiana Watercolor Society accepts original, water-based paintings on paper.
Original:
Paintings must have been completed in the three years prior to the submission deadline (no older than June 2020).
Paintings must be the sole work of the artist; they cannot be completed in workshops or classes or under supervision.
No copies of another artist's work are allowed.
Only original paintings are allowed: No photographs, prints, or giclées.
If photo references are used, the photo must have been taken by the artist.
No work other than the accepted work may be submitted.
Water-based:
Watercolor is the preferred medium.
Acrylic, casein, gouache, water-based ink and tempera are allowed.
Paper:
All paintings must be on unvarnished natural paper or synthetic papers such as Yupo.
No other surfaces are accepted.
FRAMING
All works must be framed under clear plexiglass or other framing-grade acrylic.
Wire and screw-eye (or D-ring) must be attached for hanging.
Mats, if used, must be white or off-white.
Diptychs and triptychs must be in single frame.
Minimum image size is 8" X 10".
Maximum frame size is 45" in any direction.
Maximum framed weight is 15 pounds.
Entering this show means that you agree to all the guidelines established by LWS.
Paintings cannot be removed before the end of the show.
Questions? Email LWS